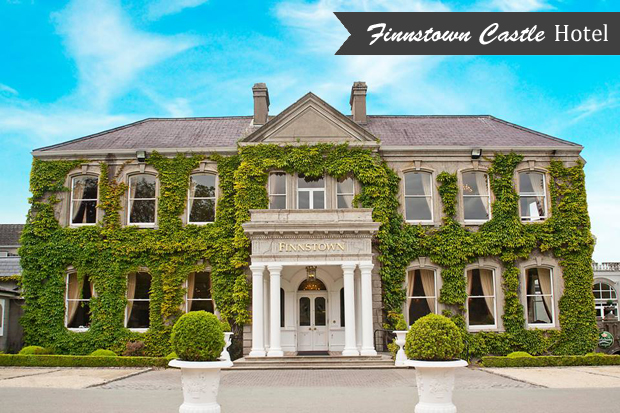 The Country House
Finnstown Castle Hotel, Lucan, Dublin
View Profile
The romantic Finnstown Castle Hotel offers couples an idyllic setting just 25 minutes from Dublin city centre. As you enter the gates and travel up the magnificent tree lined avenue, you'll find a cosy and welcoming country house to relax in for the duration of your stay. The beautiful mature grounds surrounding the house are dotted with ancient trees, charming gazebos and ornamental three-tier fountains, providing ample photo opportunities. Inside is just as beautiful – guests can toast the happy couple in the cosy Library Suite before retiring to the magnificent chandelier adorned ballroom for a night of the finest food and dancing.
The Historical Estate
Radisson Blu St. Helen's, Stillorgan Road, Dublin 4
View Profile
Radisson Blu St. Helen's Hotel is an elegant and luxurious 18th century Irish mansion in a central Dublin location. Set on 4 acres of private gardens, the picturesque grounds of the Radisson Blu St. Helen's and its impressive historical architecture lend themselves to a beautiful backdrop for memorable wedding photographs, while the hotel itself is luxuriously appointed creating a magical and romantic setting for your celebrations. The hotel can cater for both small and intimate weddings for as little as 10 people up to larger parties of 270 guests with several beautiful dining suites available. Couples can look forward to flawless service throughout with a dedicated planner Zuzana on hand to help you every step of the way.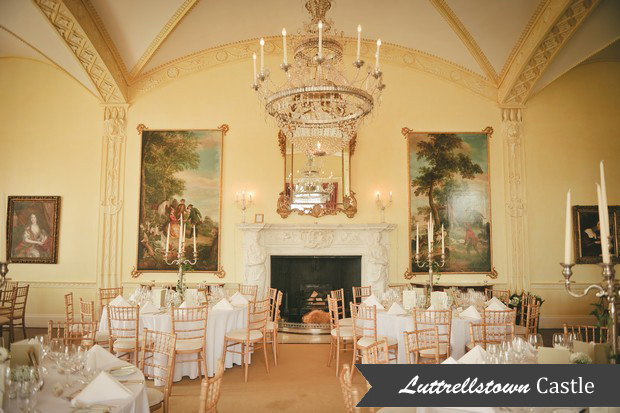 The Exclusive Venue
Luttrellstown Castle, Castleknock, Dublin 15
View Profile
The luxurious Luttrellstown Castle can be your own stunning stately home for the night! Available for exclusive, private rental, this stunning castle venue can accommodate up to 180 guests. Their beautiful grounds and idyllic walled gardens and majestic facade provide ample picture opportunities and the inside is just as impressive. The castle's luxurious interiors have the wow factor from two magnificently appointed ballrooms to the charming library with its cosy, old-world feel. Their dedicated wedding team pride themselves on their absolute commitment to personalized service, so you can be assured your day will be like no other.
Photo by Emma Russell Photography
The Stately Venue
Blackhall Place, The Law Society of Ireland, Dublin 7
View Profile
The stately and prestigious Blackhall Place, which is the headquarters of the Law Society in Ireland, is an ideal location for couples looking to create a unique, bespoke celebration. Located in the heart of the city, this historic setting can be yours exclusively for the day and can host up to 180 guests. The impressive President's Hall boasts high ceilings and beautiful stain glass windows and can host both civil ceremonies and receptions, while smaller parties can avail of the Blue Room or Dining Room for more intimate affairs. There is also an opportunity to have a marquee erected on the grounds for a larger contemporary city wedding.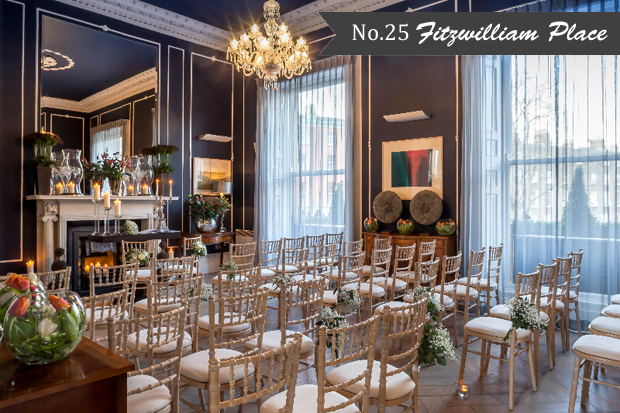 The Intimate Venue
No. 25 Fitzwilliam Place & Suesey Street Restaurant, Fitzwilliam Place, Dublin 2
View Profile
The fabulous No. 25 Fitzwilliam Place is a sophisticated and romantic wedding venue in the heart of the city, that's perfect for more intimate wedding celebrations. This beautiful Georgian townhouse is your own private house for the day and has been lovingly restored with a blend of unique period features and more contemporary decor which give it a modern, classic feel. No. 25 can cater for 60 guests (or groups of 100 if you have your ceremony on-site as well) and prides itself on the warm and friendly service and incredible menu opportunities, using the very best of quality Irish ingredients and internationally renowned artisan producers. Its sister restaurant Suesey Street which is located next door is another stylish, intimate city centre offering with a more casual ambience.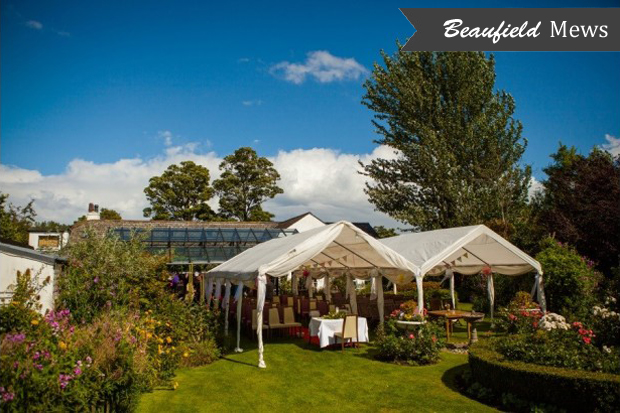 The Boho Venue
Beaufield Mews Restaurant & Gardens, Woodlands Avenue, Stillorgan, Dublin
View Profile
Beaufield Mews is a hidden oasis just 4 miles from Dublin city centre. The Restaurant has been established since 1948 and is now the oldest restaurant in Dublin. The 18th Century stables and courtyard have been lovingly restored and mixes old world charm with an alternative twist. Their beautiful walled rose gardens can be used for ceremonies and blessings or is the perfect place to kick off your drinks reception. Their menu offerings are as unique as the setting with lots of gourmet food options for couples looking to give their wedding menu a fun twist – hog roasts, barbeques, rustic picnics and the restaurant's 'Mini Feast' menus are popular choices but their 5 course meal will also go down a treat if you're after a more traditional menu.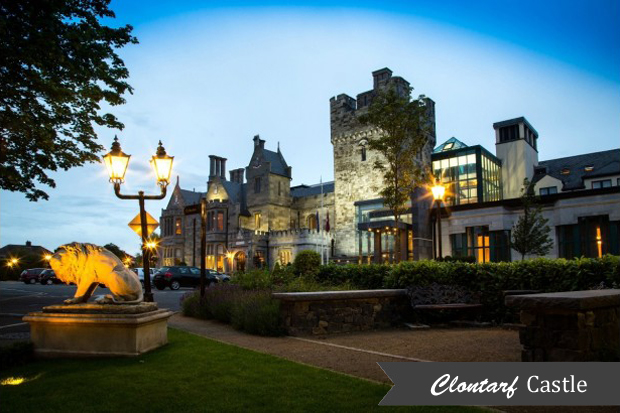 The Castle Venue
Clontarf Castle, Clontarf, Dublin 3
View Profile
Nestled in a quiet, leafy suburb not far from Dublin City Centre, Clontarf Castle is the perfect blend of old and new. This 12th century castle retains many of its original features and will appeal to couples that want an authentic castle experience but with all the modern luxuries. Steeped in history, the castle boasts beautiful stained glass windows, dramatic high ceilings and the stunning original staircase but a recent refurbishment has brought it in to the 21st century with beautiful bespoke interiors throughout, luxurious suites and a chic, contemporary bar where guests can toast the newlyweds. The venue is suited to both grand and more intimate affairs and has several beautiful suites available for wedding celebrations including the impressive Great Hall and the more intimate Viking or Tower Suite.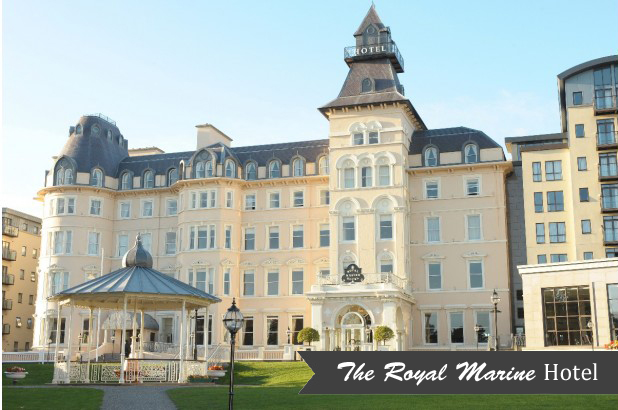 The Waterside Venue
The Royal Marine Hotel, Dun Laoghaire, Dublin
View Profile
Located in the picturesque village of Dun Laoghaire, The Royal Marine Hotel is set on four acres of gardens and has panoramic views of Dun Laoghaire Harbour and Dublin Bay. The idyllic location would provide endless photo opportunities for wedding couples – the pretty Dun Laoghaire Promenade and Pier would be a magnificent backdrop. The hotel itself dates back to the 19th century and has all the charm and character of a period building from the beautiful high ceilings to the sophisticated cornicing and its magnificent Victorian staircase. The Royal Marine caters for all styles of weddings whether large or intimate, a marquee celebration, a casual luncheon or a more formal affair.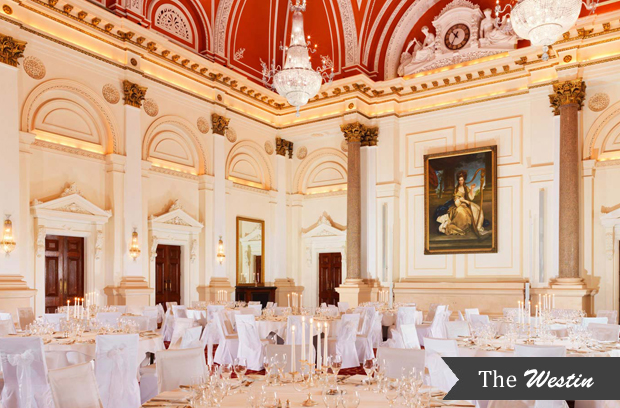 The 5 Star Venue
The Westin Hotel, Westmoreland Street, Dublin 2
View Profile
The iconic Westin Hotel is a name synonymous with luxury and style. Located in Dublin's bustling city centre, the opulent 5 Star hotel can host both large and more intimate affairs. The iconic 19th Century Banking Hall has been lovingly restored and showcases many of its original features including opulent marble pillars, tall mahogany doorways and beautiful ornamental details cover the wall and chandelier lined ceiling. It can cater for up to 170 guests. Smaller parties of between 30 and 50 guests can celebrate in one of the hotel's equally beautiful, but more intimate rooms. Service is second to none and couples can look forward to working with their dedicated planner to ensure the menu, service and setting is everything they dreamed of and more.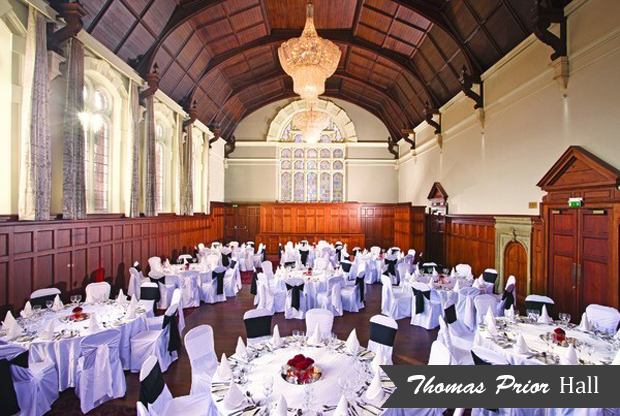 The Alternative Venue
Thomas Prior Hall, Merrion Road, Dublin 4
View Profile
Tucked behind an iconic water fountain, the beautiful Thomas Prior Hall in Ballsbridge in the centre of Dublin City is ideal for those looking for a unique backdrop for their Big Day. Once a masonic school, Thomas Prior Hall is all about the ballroom, a magnificent church-like room that boasts ornate oak panelled walls, stained glass windows, shimmering crystal chandeliers, a spectacular vaulted wooden ceiling and even has a secret staircase to a choir balcony. The room is full of character and charm and would make a memorable setting for both wedding ceremonies and receptions. Civil ceremonies can also be held on the beautiful surrounding lawns with the impressive hall as a backdrop.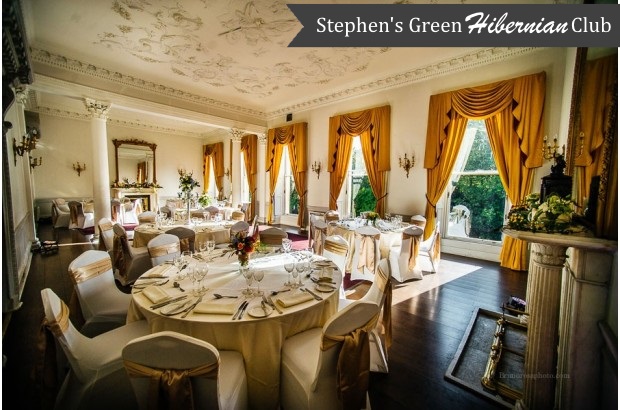 The City Centre Venue
Stephen's Green Hibernian Club, Stephen's Green, Dublin 2
View Profile
Located in the heart of Dublin City, The Stephen's Green Hibernian Club is ideal for couples who dream of the city as a backdrop for their celebrations. The historic building overlooks Dublin's landmark St. Stephen's Green and has both stunning architecture and a gorgeous olde-world charm. It's just a short stroll from several churches including University Church, the Utilitarian Church and Pepper Canister Church and its location across from the iconic Stephen Green make it the perfect place for some fun and memorable city wedding photographs. The wedding team strive to ensure your day is unique to you and tailor make packages to meet couples requirements.
The Foodie Venue
Bang Restuarant, 11 Merrion Row, Dublin 2
View Profile
The chic and elegant spot is perfect for smaller, more intimate gatherings and will be a big hit with the foodies amongst your wedding party. Bang Restaurant has three floors which can be hired individually or the venue can be booked in its entirety. Modernly appointed with a collection of striking contemporary art prints and decor, their upstairs private Gallery Dining Room is known as one of the most stunning rooms the city has to offer and can seat up to 50 guests. Couples can look forward to toasting their Big Day with a free champagne reception before a night of fine dining with a menu designed by the award-winning Phil Yeung who works with couples to create an incredible wedding menu to suit your budget.
The Chic & Convenient Venue
Clayton Hotel Dublin Airport, Stockhole Lane, Swords, Dublin
View Profile
If you're looking for a chic Dublin city venue, the Clayton Hotel Dublin Airport is a convenient and stylish option. Just a stone's throw from the country's largest airport and accessible by the M1 and M50, the setting is ideal for those welcoming guests from at home or abroad. They can cater for intimate family gatherings and larger celebrations and have three fabulous packages to suit all styles and budgets or if you're looking for something truly unique, you can tailor make your own. Their elegant Baskin suite boasts floor to ceiling windows and beautiful contemporary decor and can accommodate up to 250 guests while the more intimate Rose room is suited to smaller gatherings.
The Beautiful Ballroom
The Lucan Spa Hotel, Lucan, Dublin
View Profile
Couples looking for magical outdoor space for their ceremony combined with an elegant ballroom to continue the celebrations will adore all The Lucan Spa Hotel have to offer. Their private woodland area will provide a romantic backdrop for your 'I Do's' and couples will fall in love with the venue's elegant and romantic banqueting hall – Boyne Suite. With a colour scheme of rich burgundy and gold tones, large crystal chandeliers and floor to ceiling windows framing the entire space, The Boyne Suite really has the wow factor and can cater for up to 200 guests. Their state of the art lighting system comes in to its own come evening time – the chandeliers offer a choice of colour schemes to create the perfect party mood and is sure to impress your guests.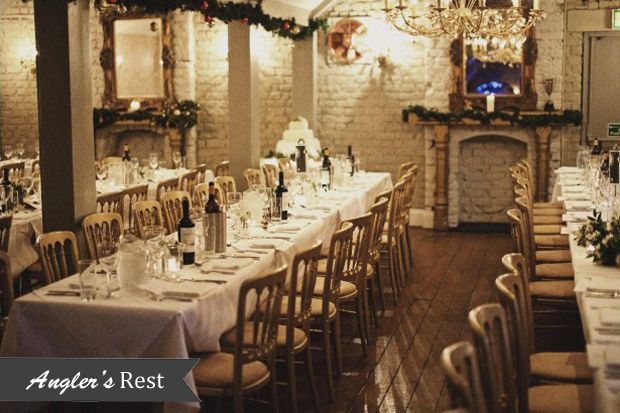 The Lovely Laid Back Venue
Angler's Rest, Strawberry Beds, Dublin 20
View Profile
Its picturesque location on the banks of the River Liffey at the Strawberry Beds combined with its excellent reputation for fine food make the Angler's Rest an ideal choice for couples looking for a chic and charming wedding venue near the capital. The venue's stylish decor will be a big hit with couples after a unique and cosy setting for their Big Day. The team works closely with couples to ensure each wedding is full of the details and personal touches that make it unique to them. Special attention is paid to the menu with an extensive range of top-class dishes to choose from as well as wines, beers and spirits. There are ample photo opportunities within the venue itself and the iconic Phoenix Park is just a stroll away as well.